Showing 1–12 of 106 results
RM

3,270.00
GET BETTER AT WHATEVER. SEVEN DAYS A WEEK.
Combining the best features of our fitness and outdoor watches, the smaller-sized fēnix 7S multisport GPS watch blends cutting-edge design and performance with 7-day-a-week wearability.
Run and ride — it's what you do. Tracking all your stats — it's what we do.
The world is yours to explore. Navigation sensors help you find your way back.
No matter where you go, text messages and alerts3 will always be able to find you.
Keep great tunes coming with music on your wrist — and no phone to weigh you down.
Stretch battery life to the limit. Go up to 11 days between charges in smartwatch mode.
PERFORMANCE BY DESIGN
Updated, ultratough design features a bright 1.2″ display and 42 mm fibre-reinforced polymer case. The watch is tested to U.S. military standards for thermal, shock and water resistance.
TOUCHSCREEN AND BUTTONS
Trusted button controls that work in any environment are matched with a responsive new touchscreen interface for quick access to selections and functions.
PREMIUM MATERIALS
Fit the watch's look to your lifestyle with a stylish stainless steel bezel.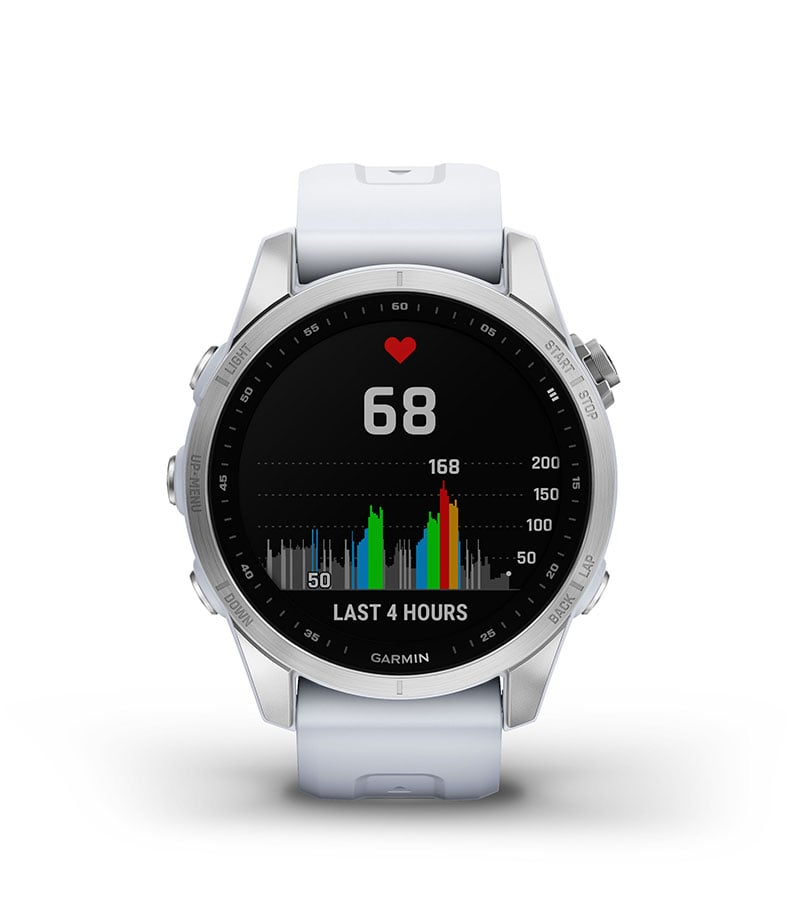 WRIST-BASED HEART RATE
Optical heart rate technology gauges activity intensity as well as Heart Rate Variability to calculate your stress level. It also tracks underwater without a heart rate strap.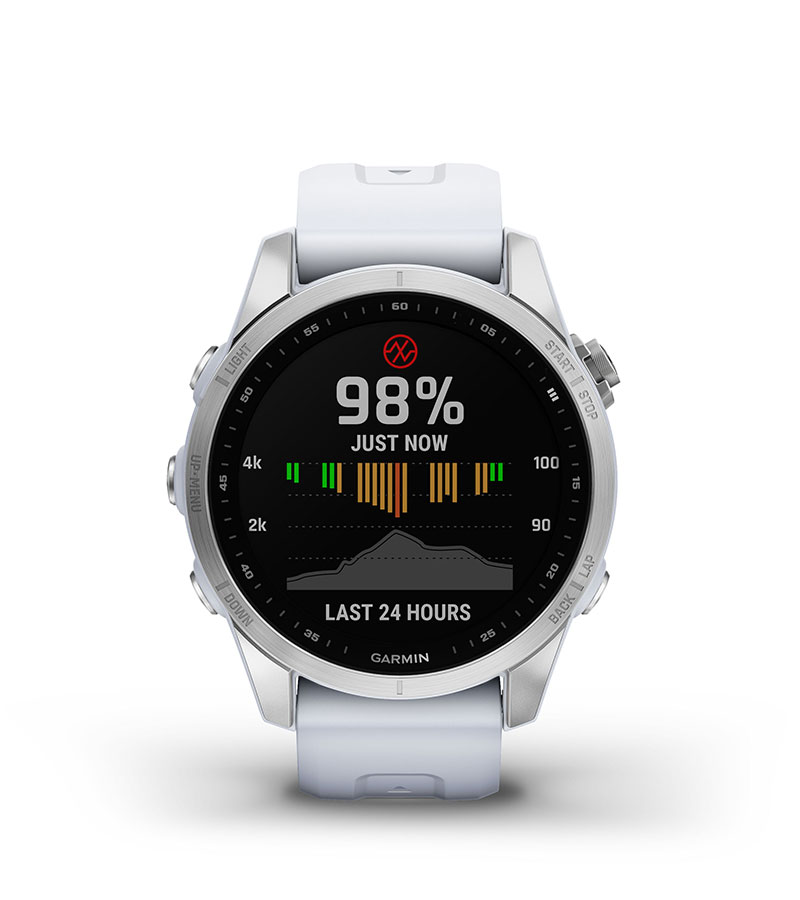 PULSE OX SENSOR
For altitude acclimation or sleep monitoring, a Pulse Ox2 sensor uses light beams at your wrist to gauge how well your body is absorbing oxygen.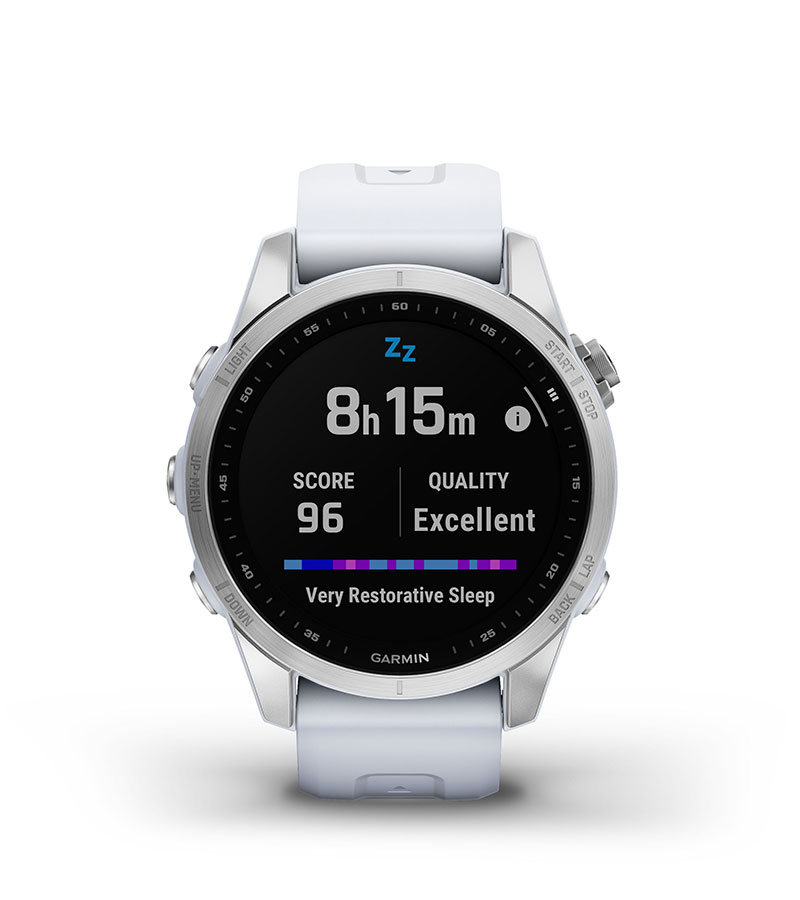 SLEEP SCORE AND ADVANCED SLEEP MONITORING
Get a full breakdown of your light, deep and REM sleep stages. View it all on a dedicated widget that includes your sleep score and insights.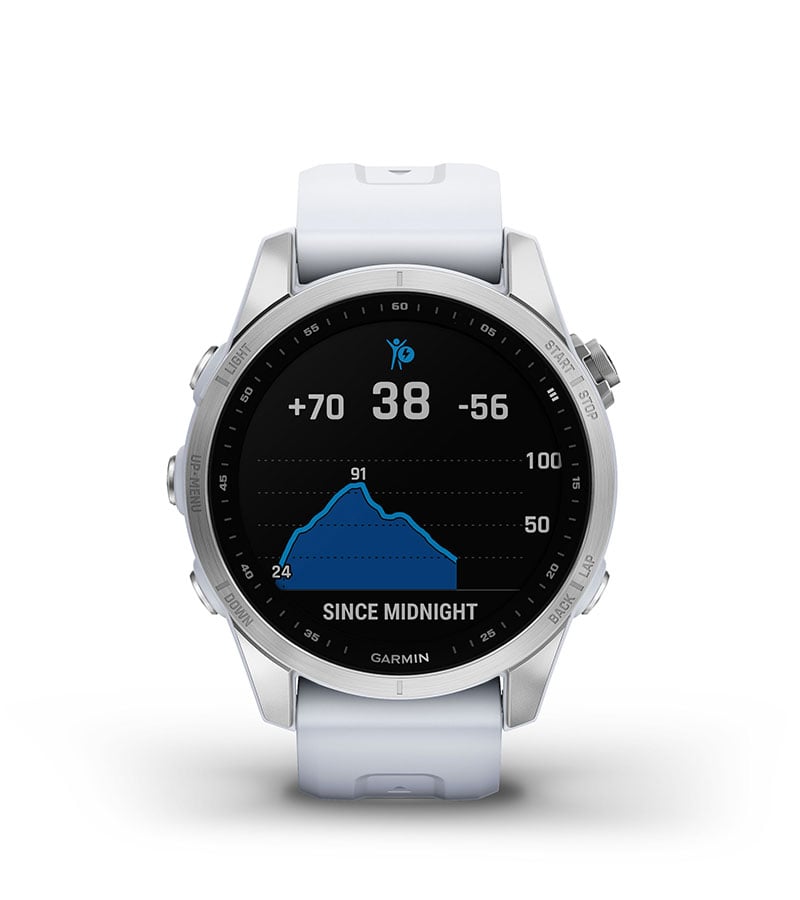 BODY BATTERY™ ENERGY MONITORING
Optimise your body's energy reserves, using heart rate variability, stress, sleep and other data to gauge when you're ready to be active or when you may need to rest.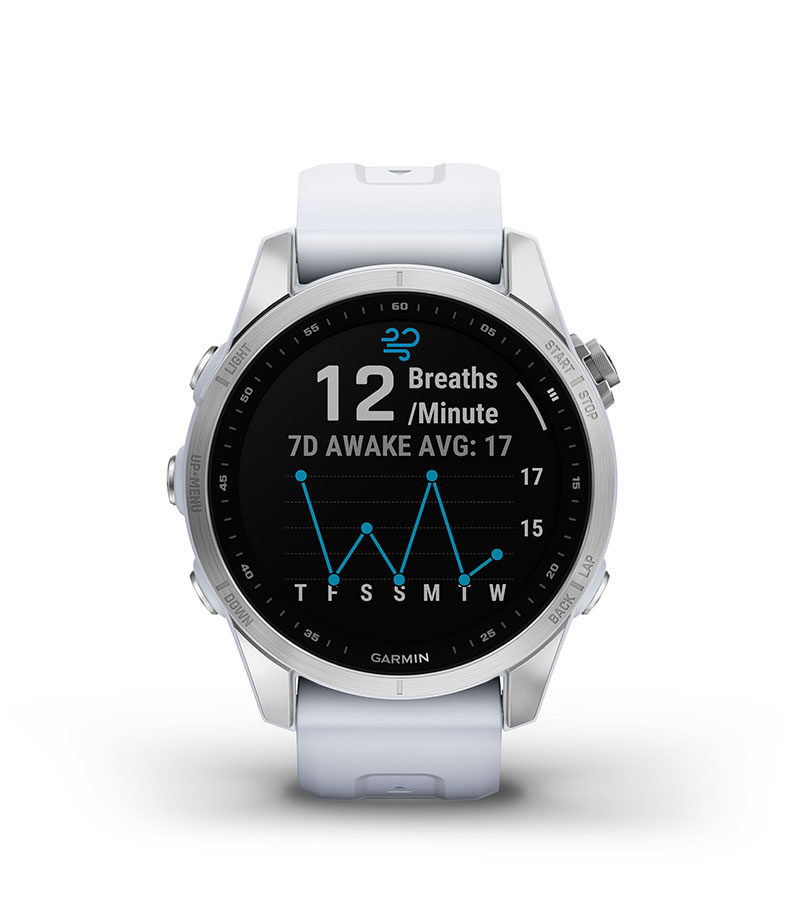 RESPIRATION TRACKING
See how you're breathing throughout the day, during sleep and during breathwork and yoga activities.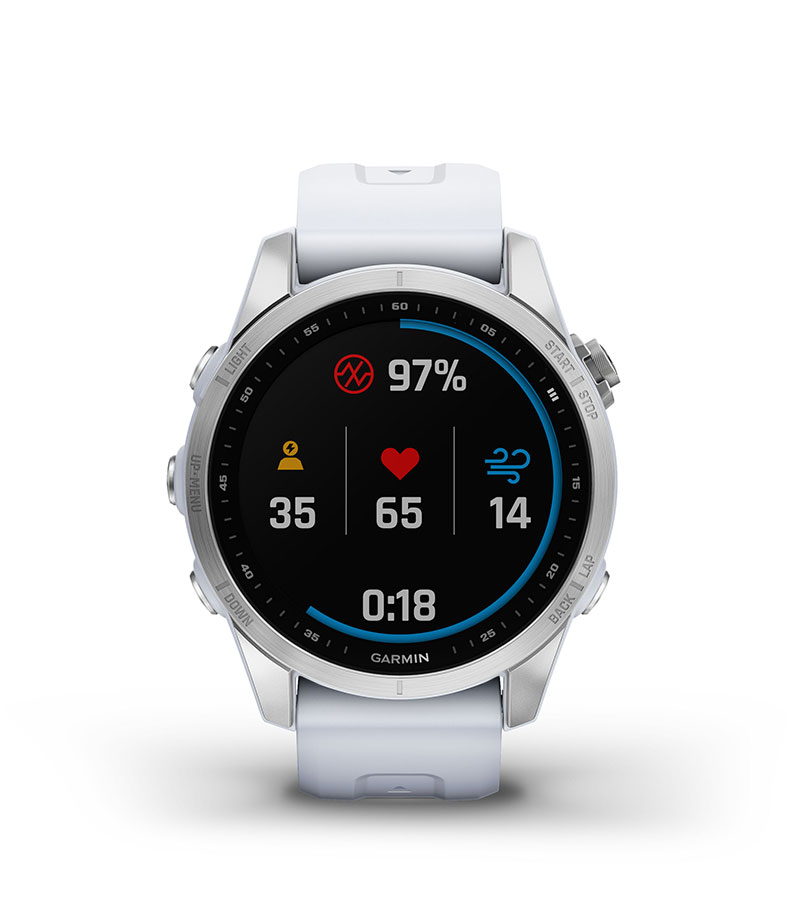 HEALTH SNAPSHOT™ FEATURE
Log a 2-minute session to record key stats, including heart rate1, heart rate variability, Pulse Ox2, respiration and stress. Then generate a report with those stats to share via the Garmin Connect™ app on your compatible smartphone.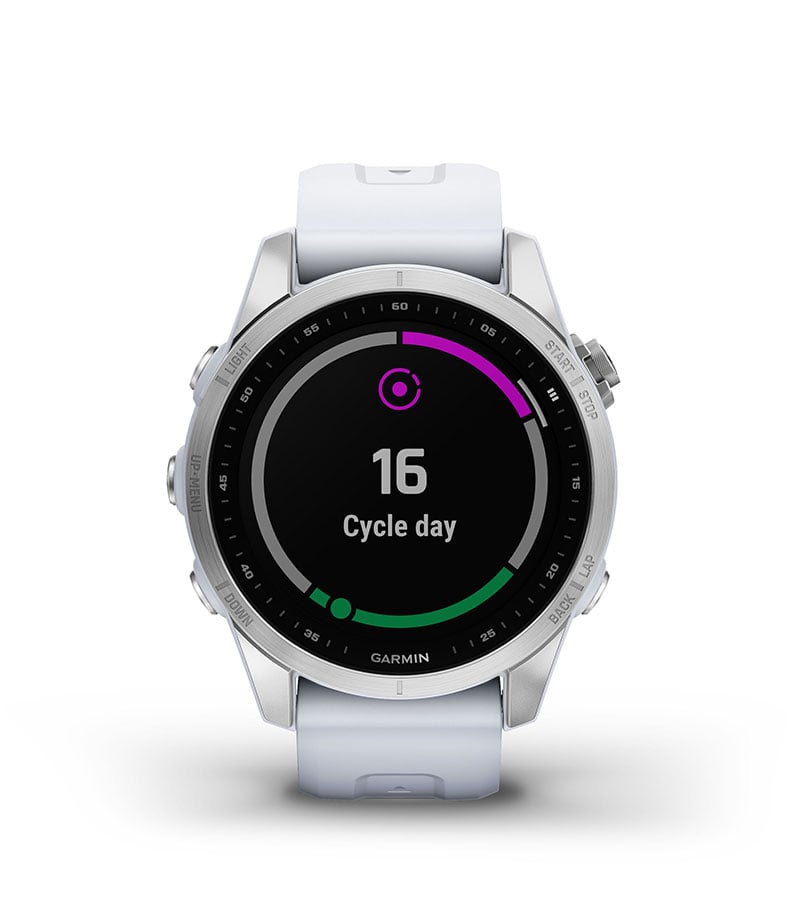 WOMEN'S HEALTH TRACKING
Use the Garmin Connect™ app to track your menstrual cycle or pregnancy. Log symptoms, get exercise and nutrition education, and more. Even get details on your wrist with the Menstrual Cycle Tracking widget and Pregnancy Tracking app.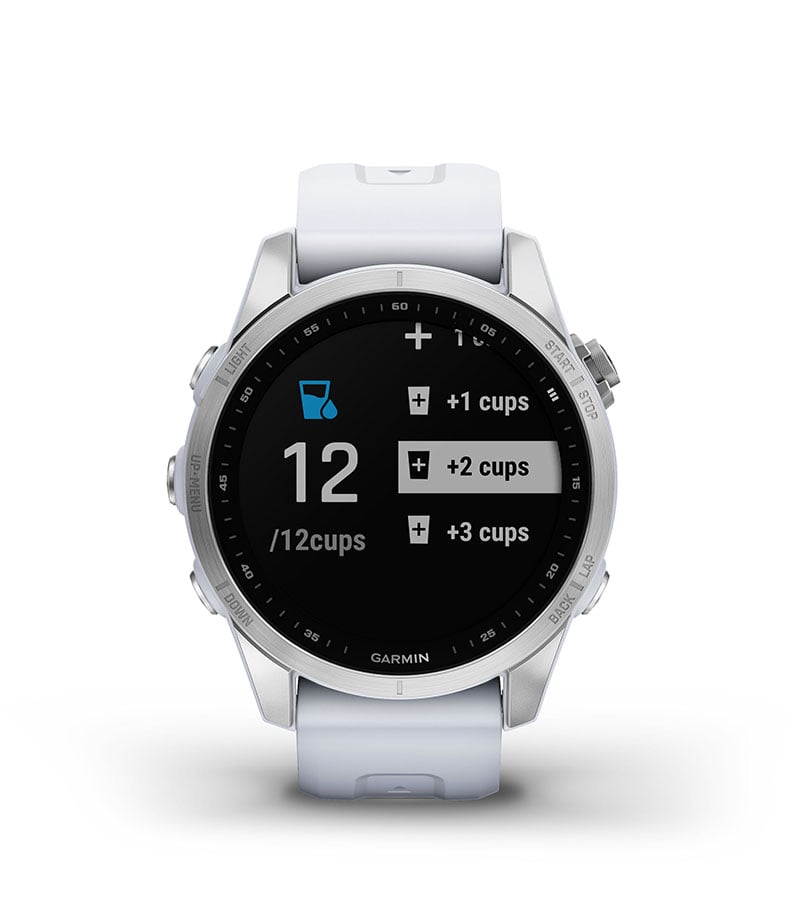 HYDRATION TRACKING
Log daily fluid intake as a reminder to stay hydrated. When auto goal is enabled, you'll even see estimated sweat loss after an activity, and your goal will adjust accordingly.
Read more